The most secure Android phone ever? Introducing Kaymera Technologies
From the launch of Google's flagship Pixel phone it was one of the most hotly anticipated smartphone releases, and immediately achieved a raft of top reviews from leading publications. It was developed to respond to increasing fragmentation in the Android ecosystem, which has led to long updates and patching cycles, and in turn creates multiple mobile security theats and vulnerabilities for cybercriminals to exploit.
The Pixel phone delivers a hardware platform optimised for Android, and incorporates robust security features like a fingerprint scanner. However, as with any off-the-shelf smartphone, public and private sector organisations wishing to use the device would still need to layer on security solutions to fully protect the device and the data it holds. And once that third party software is introduced, there's the real risk that it will affect usability, and users' experience – possibly causing them to seek workarounds for the security.
Smartphone users quite understandably expect to be able to use all their device's applications and features without restriction – yet many mobile security solutions restrict access to app or phone features limiting the comfort of smartphone experience. It's a fine balance. As soon as the restriction is deemed too severe, or the performance of the phone is affected, users become frustrated and are increasingly likely to either use the device in an unsafe way that undermines the original security mechanisms (for example, by rooting the device), or stop using the device for work purposes at all, thereby affecting their productivity.
This is where Kaymera has stepped in, with the launch of the Kaymera Encrypted Smartphones based on Google Pixel way back in 2016, a fully secured version of the Pixel phone. It uses the original Google device's purpose-built hardware and retains all of the Pixel's features and ergonomics, including the fingerprint scanner with added layers of cyber defense.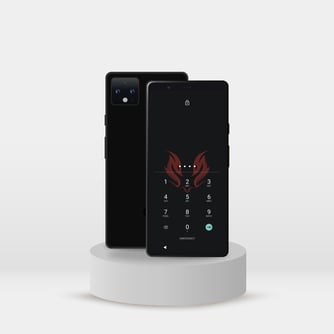 Today Kaymera offers a wide variety of Fully Encrypted Pixel Phones, that enable users to continue using all of their preferred Android applications, while ensuring that the phone, data stored on it and all communications (voice, data and messaging) are fully secured.
As with our other hardware-based solutions, we replace the original Android OS with our own fully-hardened version, and add our unique three-layered defense approach to tge security architecture of the device.
Our four-layered approach addresses each of the main mobile threat vectors, including data stored on and transmitted to and from the device, its external interfaces, its OS functions and its applications. When an organization deploys Kaymera devices they are all managed centrally via a single management dashboard, so that managers can examine the real-time risk status of each device.
Download our full 2021 catologue to choose your ultimate mobile security.